I'm Mimi McFadden, And This Is My Dharma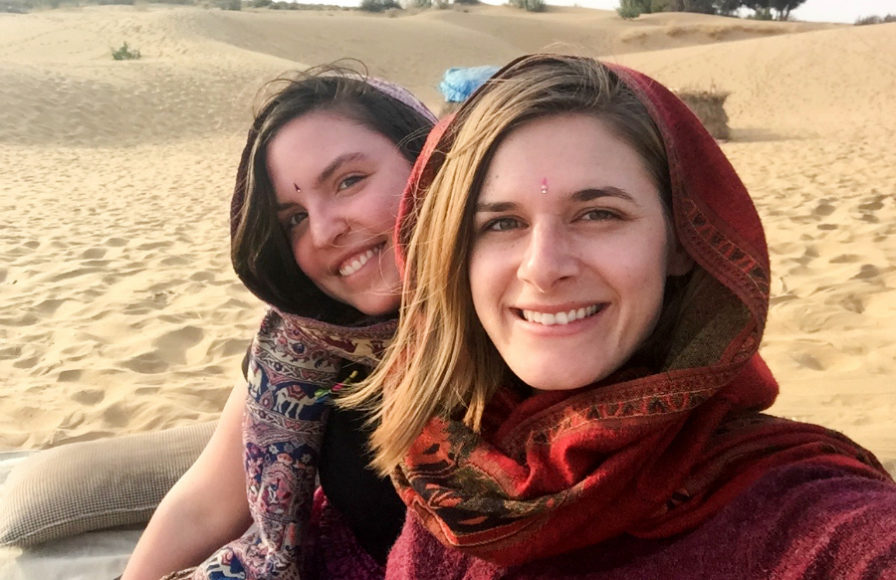 Mimi McFadden is a travel blogger, entrepreneur, and yoga enthusiast. She's traveled to 30+ countries over the past 10 years. Over the last decade, she has jumped out of planes, became scuba certified, started her own business, hiked countless trails, and is always looking for the next adventure to push herself outside of her comfort zone. She's currently based in San Francisco, where she runs her online business and writes full-time for her travel blog, The Atlas Heart.
Personal or Professional Goals:
My personal goals right now are to find more daily mindfulness, stay open-hearted, become fluent in another language, and get my yoga teacher certification. My professional goals include making my travel business and blog a go-to resource for budding travelers and adventurers. To inspire more people to have a traveler's mindset, which means taking the time to understand new perspectives, and to have genuine interest and conversations around learning about other cultures and backgrounds.
What's Your Offering to the World?
Optimism, open-mindedness, hope, and action. I think all of us could use more of those four things in today's world. Less prejudice, more understanding, and connection.
Who/What Inspires You?
There are so many things that inspire me on a daily basis, which is probably why I have so many passions and interests!
However, there's nothing that inspires me more than a good writer who is able to take a topic and open up a new level of understanding for you. To really make you think about the things that are relevant to your life and your purpose, or to create a new line of thinking that you've never had before. I've currently been loving Brené Brown's work (especially Braving the Wilderness). But honestly, it would be hard to pick one person in particular. I adore writer's and poets from all different genres.
Mission:
My mission is to create more community and more connection, of not only travelers but people from all walks of live who are inspired to see different perspectives. To create a space where you can explore all the eccentric bits that this world has to offer, in a mindful way.
Favorite Quote:
One of my favorites right now – "Happiness cannot be traveled to, owned, earned, worn or consumed. Happiness is the spiritual experience of living every minute with love, grace, and gratitude." // Denis Waitley
Volunteering:
After a rough emotional year in 2017, I turned to volunteer work to give back and learn how to gain a better perspective on what it means to feel whole again. I started with volunteering at animal shelters around Thailand last year, and I'm now volunteering at a local shelter in California and writing about my experiences along the way. I hope to continue my volunteer work and expand into women's organizations that are fighting for women's rights and education – here in my own country and abroad.
Two of my other major goals this year include writing my first book and finding a home base. I've been slow traveling the world for over four years, and it has been wonderful. But I sometimes miss that built-in feeling of community and a 'home' to come back to. It's something that I plan to focus on figuring out this year – what the idea of 'home' really means to me after being in transit for so long.
Website:
https://theatlasheart.com
Facebook:
https://www.facebook.com/theatlasheart
Instagram:
https://www.instagram.com/theatlasheart
Pinterest:
https://www.pinterest.com/theatlasheart
Youtube:
https://www.youtube.com/channel/UCiE0ZER_e7J82_TXtFGzTHQ
Get Daily Wellness