I'm Eden Koz, And This Is Dharma
I am a fierce person with a passion for meditation/mindfulness and helping people really to connect to everything around them in a calm and peaceful way… their life, work, family and community. I have been practicing almost 20 years and had my company for a decade, Just Be ~ A Meditation, Mindfulness & Modern Wellness Company.
I went through major health challenges over the last 6 months from being initially diagnosed with stage 4 lung cancer, to having two brain surgeries, to having rare infectious disease to even rarer infectious disease. It has made my heart and the importance of all of this work, as it saved my life, different and MORE.
---
---
Your Personal or Professional Goals:
I have always wanted to walk my walk but through all this recent health and brain "stuff," I realized I was only doing/being a portion. Now, I feel I really know what I am talking about (as I continue to grow) and being everything I teach because I have had to be incredibly mindful of myself. Just talking was a challenge, walking, I still have issues typing. I started slowly working again only a month after my last surgery (which both brain surgeries were less than two weeks apart, by the way). Meditation did this… my mindset did this… Reiki did this… Bowen did this. I also learned that having a tribe is important, which I knew anyway, but it became so important. I want everyone to have that. To have a community that loves them unconditionally and will rally around them.
---
What's your offering to the world: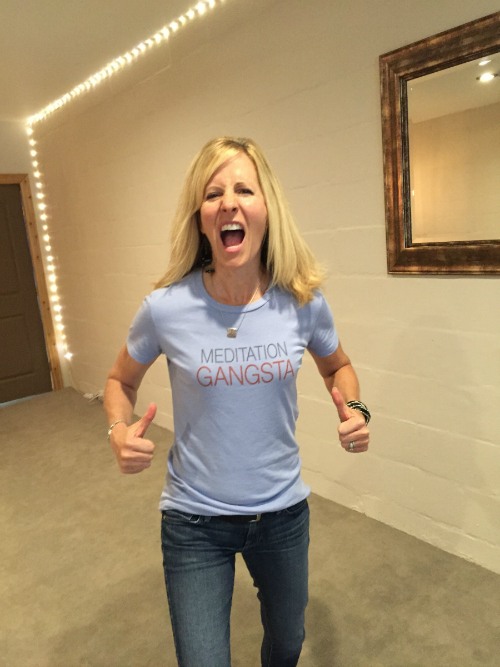 At my company, which is very personal, we offer corporate meditation/mindfulness sessions, speaking engagements, meditation classes on specific challenges (miscarriage, depression, weight loss, etc), kid classes as well as non-profit and gift work for those who have been abused, going through addiction or illness or have been through loss. We empower people to take responsibility for their life and actions. To help them see, and this is hard, that they are responsible for everything that happens. And that they can change anything in their life that they are unhappy with if it is only their outlook, but that alone is huge. And, what is always stressed, is anyone can do this no matter age, religion, background. It is the icing on your cake. I am not here to tell you what to believe but just to guide and assist.
---
Who/What Inspires You:
I am inspired by those who are willing to step outside of their comfortable box, even if their box is uncomfortable. Those who are are willing to be vulnerable, to heal, to be authentic, to dig deep and discover who they really are. It is amazing to me. This takes guts, work, and heart! I think it is the hardest yet most rewarding work.
---
Mission:
I want to change myself and open those around me. I want everyone to have calm in their life no matter what ups and downs there may be. Life will always be life – full of beauty, death, anger, disappointment, love. How can we live it with grace, compassion, and awareness? To do it and to help others – that is my mission.
---
Favorite Quote:
I know this statement is thrown around a lot but is very impactful if you really read/listen to it… this is what I teach and teach myself…
"You must be the change you wish to see in the world." ~Mahatma Gandhi
---
Goals:
My goal is to change the city I live in and eventually push that out into the world. One person at a time. If I can be an aware and conscious person, and this is a continual process, anyone can do it. I would love to say it is an easy, unpainful act but life is full of pain. It makes us stronger, if we allow it… and can make us better, if we allow it. I wish everyone could see pain as a teacher versus a literal hurt. Even physical pain, I believe, is your body just wanting you to sit and listen. Now, I can really show that as I have been right in this middle of it all!
Plus I have a daughter that is special needs. I would like for all families in the special needs community to understand more about what is given to their lives. That it is a gift. Again, I don't mean that this is easy, but there is meaning. My daughter is one of my greatest teachers and honestly, one of the most frustrating parts of my life. She always challenges me to be more, think more, question more. I must say, I love exactly how things are and really wouldn't have it any other way. I can look back now and see how she has changed me and continues. Don't get me wrong, sometimes I wish things could just be simple but she won't let me get away with that or maybe I won't. Hmmm.
---
Online and Social Sites:
Website URL: http://justbemeditation.com
Facebook: https://www.facebook.com/JustBeMeditation
Twitter: https://twitter.com/JustBeMeditate
Huffington Post: http://www.huffingtonpost.com/author/eden-kozlowski
LinkedIn: https://www.linkedin.com/in/eden-kozlowski-1323a52
Youtube: https://www.youtube.com/channel/UCVCA7KOAU9pl2-b7pljZhxA
Get Daily Wellness