2 Healthy Chocolate Recipes To DIE For!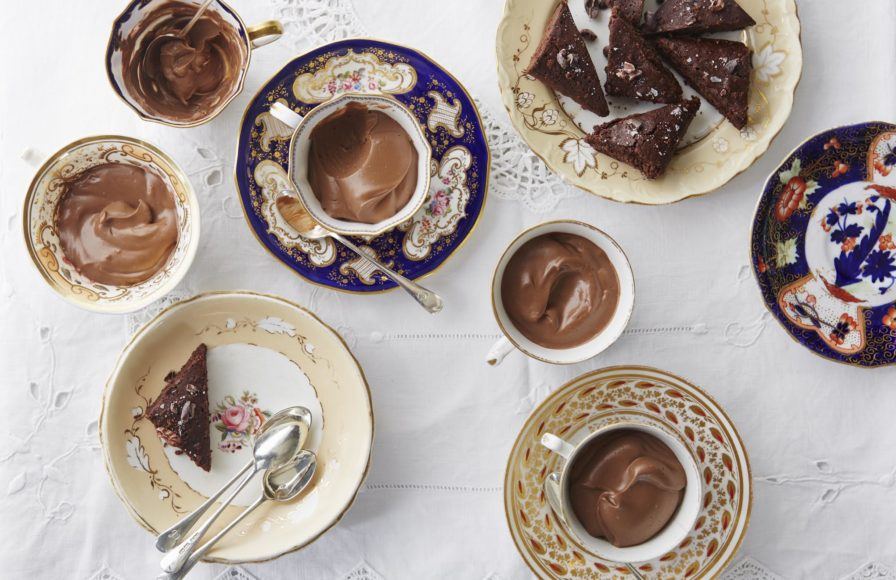 ---
Velvet Chocolate Pots
While many chocolate desserts can be heavy and cloying, coconut yogurt adds a subtle surprising freshness to these pots, but the flavor of coconut is not detectable, nor is the avocado.
Instead, they combine to create a seductively smooth mousse-like cream, which is rich but light at the same time and beats all its rivals!
Serves 6
Ingredients:
160 g (5½ oz) avocado (about 1 large avocado)

200 g (7 oz/¾ cup plus 1 tbsp) chocolate coconut yogurt

100 g (3½ oz/¼ cup plus ½ tbsp) date syrup

15 g (½ oz/3 tbsp) cacao powder, plus extra to dust

½ tsp vanilla extract

Pinch Himalayan pink salt

60 g (2 oz/generous ¼ cup) coconut oil
Directions:
You will need 6 small ramekins, teacups or small suitable pots. Place everything except the coconut oil in the blender and process. Melt the coconut oil, add to the chocolate mix and blend on full speed until completely smooth.
Divide the mix evenly between the cups and place in the fridge for an hour to chill slightly and set. Remove from the fridge, dust with cacao powder and serve immediately. If you refrigerate the pots for longer than this, remove them from the fridge about an hour before serving. They will keep for up to three days in the fridge, depending on the freshness of the avocado and yogurt.
---
---
Chocolate Truffle Teff Brownies
Nestled in the cloud forest of the Andes, I tasted the best brownies ever at El Quetzal de Mindo in Ecuador.
The secret of their mind-blowing intensity was a special ingredient – 100 percent cacao liquor, made from beans from the plantation where the brownies were baked.
I have tried my hardest to recreate them here.
Makes 30 rectangles or 48 triangles
Ingredients:
100 g (3½ oz/½ cup) coconut oil

150 g (5¼ oz) dark (bittersweet) chocolate, 100% cocoa solids

280 g (10 oz/2¼ cups) coconut sugar

1 tsp coarse sea salt, plus ½ tsp extra for sprinkling

4 eggs

2 tsp vanilla extract

80 g (2¾ oz/generous ½ cup) teff flour
Directions:
Preheat the oven to 170°C/325°F/Gas Mark 3. Grease and line a 30 x 20 x 2 cm (12 x 8 x ¾ inch) brownie tin.
Melt the oil with the chocolate in a bain-marie (see page 156 of Clean Cakes). Once melted, remove from the heat and mix in the sugar and salt, grinding it between your fingers, followed by the eggs and vanilla extract. Finally mix in the flour until just combined. The mix should look smooth and glossy. Pour into the prepared tin. Sprinkle with the extra salt and bake for 15 minutes, rotating the tin after 10 minutes, until a skewer inserted in the center comes out clean. The brownies should feel firm to touch and will be cracking slightly around the edges.
Leave to cool completely in the tin then cut into 30 rectangles, each 5 x 4 cm (2 x
1½ inch), or make 48 small triangles, by cutting 5 cm (2 inch) squares diagonally in half. As the brownies are very rich, for me a small triangle will suffice. They are also great served as petit fours or with the Velvet Chocolate Pots. These brownies will keep for up to five days in the fridge or are suitable for freezing.
They're even yummy eaten straight from frozen.
Recipe and images extracted from Clean Cakes by Henrietta Inman, photography by Lisa Linder. Published by Jacqui Small.
---
Get Daily Wellness